Porcelain
Myott Son & Co vegetable covered dish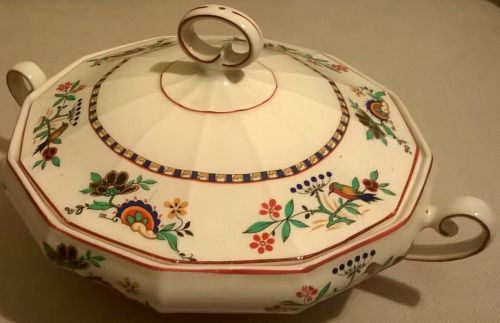 Beautiful multisided Myott art nouveau tureen.
The pattern number is 1936. It presents floral decorations with birds.
This dish is marked on the base:
Myott, Son & Co
England
The word 'England' in the mark suggests it was made between 1901 and 1921. Later pieces from art deco period had 'Made in England' inscription.
Brothers Ashley and Sydney Myott established the firm in 1898. Serious production started in 1901, when they built a five-oven factory on the site of demolished Brownfield's pottery in Cobridge. In 1925 brothers extended their works to the adjacent Upper Hanley pottery forming collectively the Alexander Potteries.
Myotts future was seriously influenced by the 1949 fire, which meant destruction of valuable pattern books and records.
In 1969 Myotts were bought out by an American corporation Interpace an American. In 1976 the company the company merged with Alfred Meakin Ltd forming Myott-Meakin Ltd. 23 years later the company was bought by Melton Modes and in 1991 by Churchill Group.