Heinrich V&B Traumereien Herbst (Autumn) plate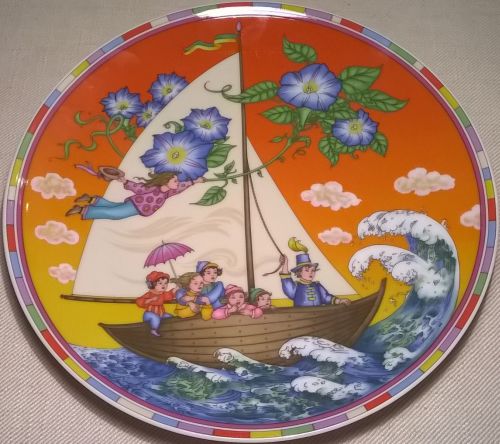 A collector's plate designed by Gero Trauth.
There are four plates in the Träumereien (Dreams) series:
Spring (Frühling)
Summer (Sommer)
Herbst (Autumn)
Winter (Winter)
These plates were issued in a limited edition.
Gero Trauth was born in 1942 in the town of Neurode situated in Lower Silesia, which now belongs to Poland. In 1946 Trauth and his family had to move to Western Germany.
He studied Arts, Graphics and Design at the Gutenberg University in Mainz, Germany. Trauth is a German painter, graphic artist, porcelain illustrator and designer.
His cooperation with Villeroy & Boch/Heinrich–Porzellan in Selb started in 1984. Trauth was designing art editions as well as fairy tales motives. He also created series of porcelain for the WWF (Symbiose Mensch – Natur, 1990) and the German Cancer Research (Deutsche Krebshilfe; (Träumereien, 1995). In 1997 Trauth stopped designing for V&B.