Design Naif dessert plate 'Plowing'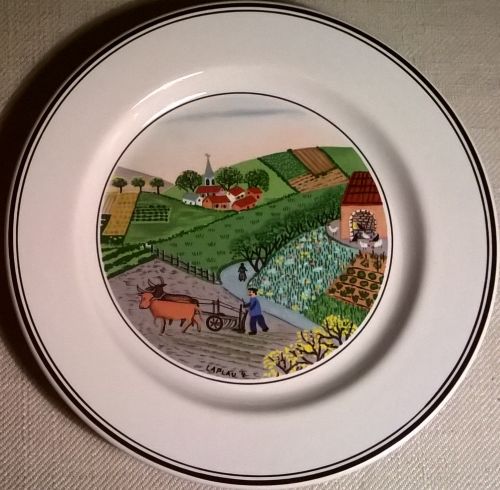 This pattern was designed by the Corsican artist Gérard Laplau who was critical in establishing 'naïve' as a globally relevant art form.
Design Naif pieces often feature family and village vignettes with occasional biblical motifs. Gerard Laplau was a French folk artist who was spotted by Villeroy & Boch after creating a Christmas Card for UNICEF. The Design Naif pattern was created in 1979. Each scene was originally painted by Gérard Laplau. It is rich in bright colours and full of simple everyday stories: weddings, families, grandparents, workers, hunters, farmers, churches and animals. The Design Naif pieces have six different motifs.
Gerard Laplau died on July the 14th 2009 in Saint-Céré, France.
The plate is marked: