Porcelain
Meissen Carl Teichert onion pattern plate
This is a high quality porcelain plate made in the Meissen Oven and Porcelain Manufactory.
The Meissen Oven and Porcelain Manufactory formerly Carl Teichert (Meissner Ofen- und Porzellanfabrik vorm. Carl Teichert) mark is often mistakenly taken for Royal (later State) Porcelain Manufactory Meissen, which used crossed swords as a mark.
The onion pattern plate is marked with 'Meissen" inscription in a circle and a star below. This mark was used from December 1882 to December 1929.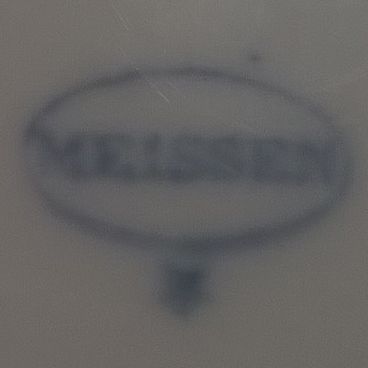 The Carl Teichert factory produced everyday household items. It was established in 1863 by Carl Teichert who died a few years later in 1871. It started as oven tiles producer. In 1880 the manufactory began producing porcelain tableware as well as figurines. It was known for the onion pattern porcelain.
The onion pattern was also produced in the Czech factory located in Eichwald. In 1923 they overtook Ernst Teichert GMBH and two years later also Stockhardt & Schmidt-Eckert. In 1929 porcelain production was stopped. The onion pattern production department bought Lorenz Hutschenreuther AG located in Selb.