Two small Delft plates by Boch for Royal Sphinx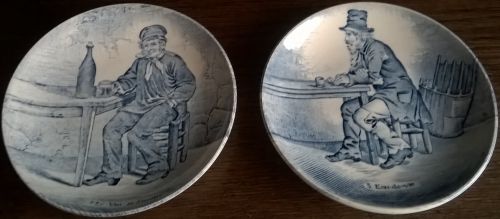 There are two plates. On one of them man is sitting at table with bottle of wine and on the second man is sitting at the table with a glassof vodka.
One of plates is titled '1. Le vin ordinaire' and the second one is titled '5. Eau-de-vie'.
The plates feature character scenes in vivid cobalt blue on cream white. The bases are marked BOCH and 'Made for Royal Sphinx Holland' and Delfts.