Porcelain
Royal Homes of Britain Enoch Wedgwood creamer
This little jug was made in the 1960s.
A blue and white printed pottery creamer by Enoch Wedgwood (Tunstall) Ltd. It is printed with the Royal Homes og Britain pattern. The base is marked:
Royal homes of Britain
ENOCH WEDGWOOD (TUNSTALL) LTD
ENGLAND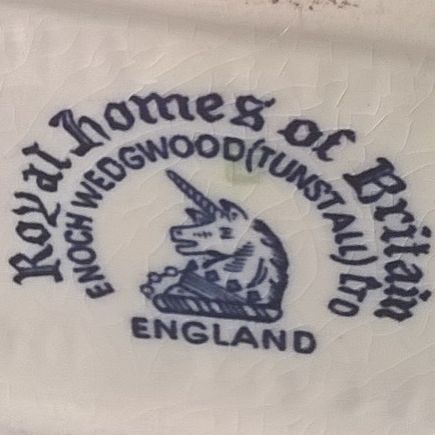 Enoch Wedgwood is not to be confused with the better known Wedgwood brand. Enoch Wedgwood (Tunstall) Ltd was formed in 1965 but roots of the company reach back to 1835 when Podmore Walker & Co was formed. Enoch Wedgwood was one of owners symbolized by & Co.
In 1860 was formed "Wedgwood & Co", which existed under that name till 1965. In 1980 it was taken over by Josiah Wedgwood & Sons, who renamed it Unicorn Pottery.