Porcelain
Enoch Wedgwood Florabunda set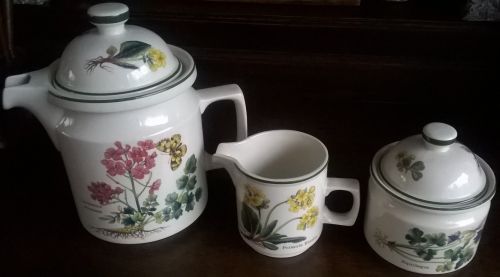 Three astonishing earthenware pieces from the Florabunda pattern.
The set consists of a teapot (coffeepot) with Cardamine Pratensis, milk jug with Primula Elatior decoration and sugar bowl with Aquilegia plant.
Enoch Wedgwood (Tunstall) Ltd was formed in 1965 but roots of the company reach back to 1835 when Podmore Walker & Co was formed. Enoch Wedgwood was one of owners symbolized by & Co.
In 1860 was formed "Wedgwood & Co", which existed under that name till 1965. In 1980 it was taken over by Josiah Wedgwood & Sons, who renamed it Unicorn Pottery.
These earthenware pieces are marked:
DOVERSTONE
Florabunda
Enoch Wedgwood Tunstall Ltd
MADE IN ENGLAND