Łysa Góra "Kamionka" Cooperative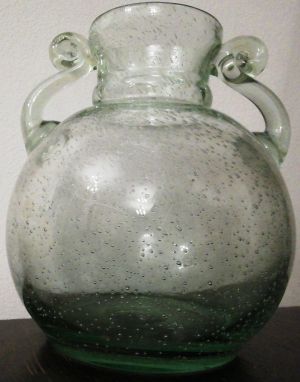 The Cooperative of the Folk and Artistic Industry "Kamionka" was founded in 1947 in Łysa Góra village located in Lesser Poland region. The merit of creating this factory is attributed to the social activist Franciszek Mleczko, who decided to transform this unelectrified place into a model village.
Franciszek Mleczko brought ceramists to Łysa Góra, as well as German machines from Lower Silesia. Initially, only simple ceramic items were produced.
Początkowo produkowano tylko proste wyroby ceramiczne. In the first years, many errors were made in the production process, what resulted in many scrap products. 
However, as early as 1951, Bolesław Książek was brought to Łysa Góra, who became the artistic director. At the end of the 1950s, talented artists began to come to the factory. They primarily designed architectural decorative ceramic tiles. The breakthrough, after which the products from the factory products were appreciated, was the exhibition in the Copper-Roof Palace in Warsaw in 1960.
Bolesław Książek retired in 1971. With his departure, the production of facade tiles was ended. The successor of Kaiążek as the artistic director was Jerzy Sacha. 
Artistic glassware was also produced in Łysa Góra. Wiesław Sawczuk, who since the 1970s cooperated with Cepelia, was designing glass forms for the "Kamionka" Cooperative in Łysa Góra. Designing for Łysa Góra, Sawczuk created highly decorative forms, putting their utility function in a further place.
The cooperative ended production in 1992. Later on, attempts were made to resume operations, but several years of efforts did not end in a successful business.