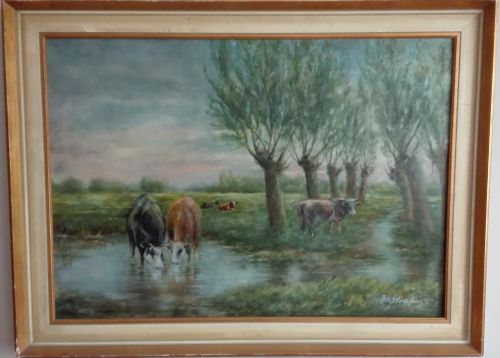 Peter Josef Strahn landscape with cows.
The painting is signed Jo. Strahn.
Peter Josef Strahn was a German painter born in 1904 in Düren. This landsacpe and animal painter was a student of Carl Jordan in Aachen. Afterwards he went to the Leipzig Academy of Graphics and Book Design. In 1926 he graduated the Düsseldorf Art Academy. Strahns' painting is influenced by German Impressionism.
Finally Strahn founded a state-approved painting school. He was director of the Kunstschule Strahn in Dusseldorf. In this position Strahn influenced many contemporary German artists. His school was attended by such artists as Karl Stachelscheid, Alfred Schmela, Gregor Merten, Konrad Fischer, Hans Salentin, Günther Petersen, Albert Larres and Sigrid Wachenfeld.
Strahn died in 1997.