Persian hand-painted polo game watercolor miniature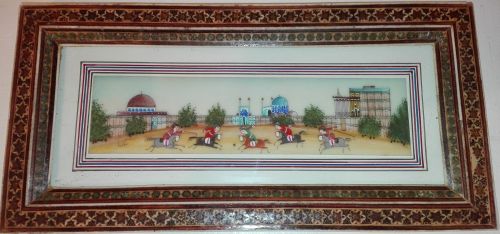 The Suratgari miniature depicts polo players scene.
This miniature is wooden marquetry framed. On the painting there are five polo players in front of temples.
The Persian-style wooden frame is made of a mini-mosaic. Such watercolor paintings have their origins in the Persian Timurid Dynasty (1369-1500). The style was created in Suratgarh, a city and a municipality in Ganganagar district in the Indian state of Rajasthan.
Suratgari miniatures were traditionally painted on thin bone panels.