"Winter in Hlebine" Ivan Generalić serigraph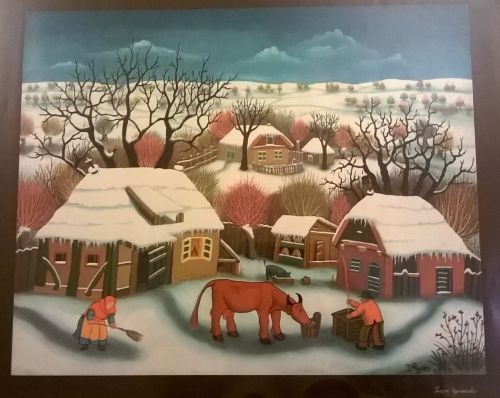 A work by leading Croatian naive art painter.
Ivan Generalić was born 21 December 1914 in a small Croatian village Hlebine and died 27 November 1992 in Koprivnica. He started his adventure with art drawing in a sand. In elementary school he liked the most his sketch book but most of his drawings were made on paper bags from his uncle's shop.
Generalić was discovered as an artist in 1930 by Krsto Hegedusic, art academy student at that time. Ivan's first public exhibition took place in 1931 in Zagreb Art pavillion. His career speeded up.
In 1953 Generalić works were exhibited in Paris. His best painting is thought to be "The deer wedding" created in 1959. Ivan Generalic has a large number of followers. There are a few generation of naive art painters who treat Generalić's works as their inspiration.
This serigraphy "Winter in Hlebine" was printed in 1972. There were 5000 pieces in this edition.