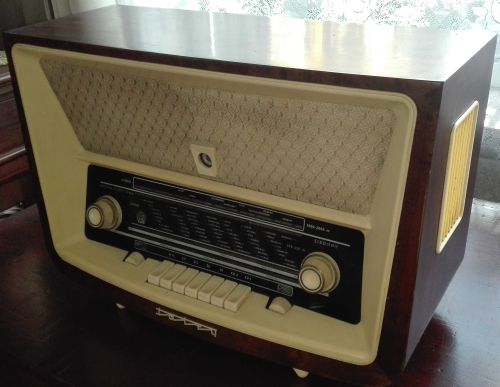 The radio was produced in 1960s by ZRK (M. Kasprzak radio factory in Warsaw).
The Tatry radio is a 5 vacuum tubes superheterodyne with 4 wavelengths, equipped with an internal rotating ferrite antenna, a separate control for bass and treble and an additional key selectivity, 3 speakers (two tweeters and one woofer) as well as special exit to the deck and gramophone.
Dimensions are 62 x 42 x 26 cm. It weights about 15 kg.
The Tatry 3281 radio is a modernization of earlier Etiuda model. Production of this radio started in 1958. It was equipped in more modern noval type vacuum tubes. A special feature of this model is the eye, EM4 lamp shining in the housing.
In 1960 the Tatry radio was modernized. From this year on it was produced based on printed circuits technology.