Porcelain
Polish bigos serving dish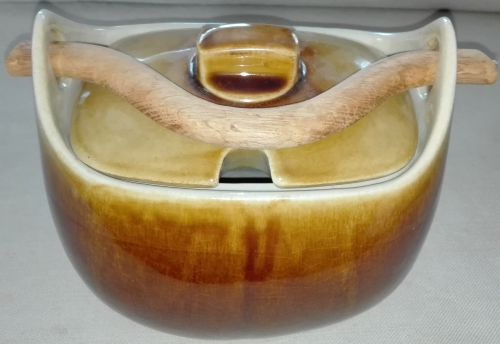 The dish was made in the Mirostowice Ceramic Plant.
This bigos serving dish is made of semi vitreous porcelain. It has a wooden handle. The dish is 22 cm wide and 17.5 cm high.
It is is marked on the base: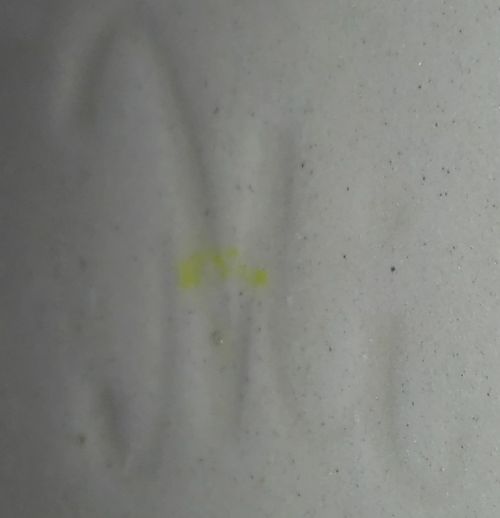 Bigos is also known as hunter's stew. It is a Polish dish of finely chopped meat of various kinds stewed with sauerkraut and shredded fresh cabbage.
The former Ullersdorfer Werke factory was almost completely demolished as a result of war. Furthermore, other valuable pieces of factory equipment were looted by Soviets. It became a Polish territory. In 1947 a few people started to work on restoring production. After two years in June 1948 production started. In 1949 the factory was oficially nationalized. They produced mostly bricks and clinker.
Only in 1963 Polish authorities managed to run the Kerabedarf tunnel kiln damaged in 1945. Mirostowickie Zakłady Ceramiczne (Mirostowice Ceramic Plant) started in 1965 to produce semi-vitrous porcelain tableware. Production was growing till 1989 when fall of communism forced tough economnic reforms. Falling demand resulted in financial problems. The plant was finally liquidated in 1996.