Porcelain
Royal Doulton Bunnykins money bank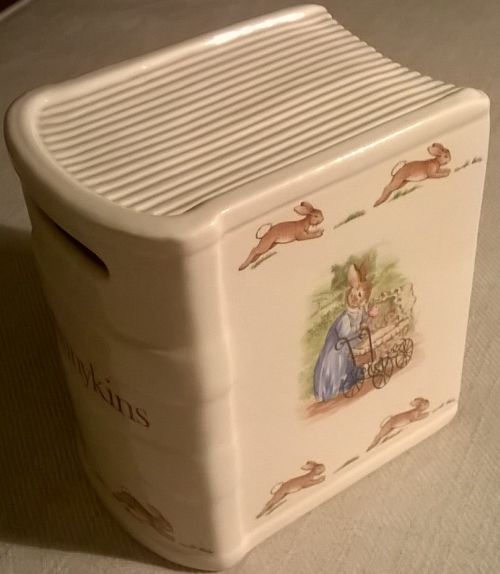 The 1988 edition money bank is in a book shape.
The Bunnykins tableware was introduced by Royal Doulton in 1934. It was based on artwork by Mary Barbara Bailey, a daughter of Cuthbert Bailey, a general manager of the factory in 1930s. Mary Barbara Bailey wasn't a professional artist. She was a nun in the Augustinian Canonesses of the Lateran.
After the WWII Bunnykins tableware and figurines were introduced again in 1969. Until 2005 they were produced in England. Now, production is continued in Asia.
On the front of bank is the word "Bunnykins" just below the slot to insert the money and a row of running bunnies on top, bottom and going around the sides. On one side are two bunnies collecting flowers. On the other side is a bunny mom with a child in a stroller.
The Royal Doulton Made in England mark is displayed on the bottom of the bank.