18th century Nevers faience polychrome plate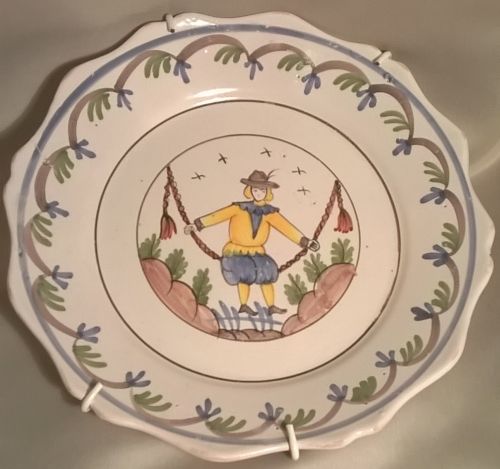 The plate is not marked.
On this plate is painted a landscape with a man on a rope swing. It is 23 cm in diameter.
This plate was made in 18th, maybe early 19th century in Nevers, the French faience production region.
French tin-glazed earthenware production started in the city of Nevers. The first factory was established around 1588 by three Italian brothers who brought here the technology of majolica. The term faience first appeared in Nevers in the
early 17th century. The source of this word comes from the expression "vaisselle de fayence" derived from Italian city Faenza was shortened to the single word "fayence".
The success of Nevers faiences led to establishing new production centers in other French cities. 18th century was a golden era for faience production. Economic problems caused by the French Revolution and growing porcelain production ended French faience expanssion.