Hoffmann's starch factory wooden box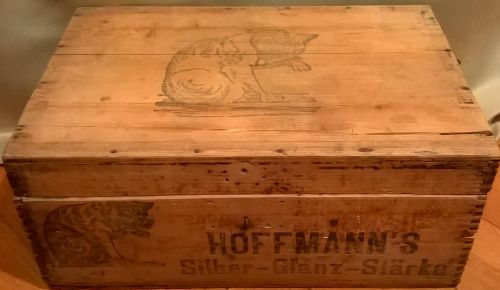 Hoffmann's Stärkefabriken were founded in 1850. Cat logo was their symbol until the closure of the site in 1990.
Hoffmann's factory produced laundry starch and cornflour. It was located in Bad Salzuflen, North Rhine-Westphalia.
This wooden box was used as a container for Silber-Glanz-Stärke (Silver-Gloss-Starch). This starch-based glaze was advertised as a guarantee of a dazzling white with silver shine and elastic stiff laundry. Dimensions are 51 cm x 29cm x 27cm.

The cat is a symbol of cleanliness. The original logo is a creation of Fedor Flinzer (1832 - 1911), who is known as Raphael of Cats. This trademark was on April 8, 1876 officialy registered with local Salzuflen court. Since December 1, 1922, the cat is protected worldwide by the entry in the International Register in Bern.
Cats figures, some up to two meters high, were modeled at the beginning of the 1930s for a variety of occasions. For the 100th anniversary of the company on 29 September 1950, such a cat was placed on a podium decorated with flowers in the yard of Hoffmann's starch factories.